March 02, 2022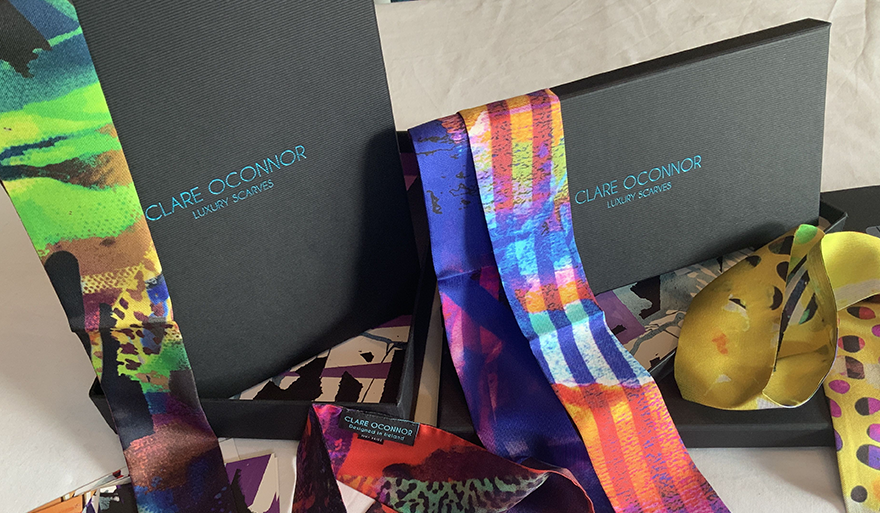 Clare O'Connor's unique artworks translate beautifully onto fabric, with the result culminating in gorgeous bespoke scarves.
Her paintings, which her brand is inspired and based on are vibrant, colourful, positive and energetic and aim to up lift the viewer and they really appeal to anyone who enjoys & appreciates Art, Luxury and living a positive lifestyle.
It was a pleasure to finally catch-up with her yesterday at SHOWCASE - following a few near misses!
"My name is Clare O'Connor and I am an Irish designer, an Irish artist primarily and this is my brand Wearable Art.
"So I use my abstract paintings, these are some examples of my paintings here, and I use them as the basis for my designs.
"I take photographs of different paintings and then I combine them to create different patterns which I send then to Como in Italy.
"So these, this range here, this is my new Bamboo Scarves, so they are 100% bamboo, they're sustainable, they're anti-bacterial and moisture-wicking and they've got a unique striped hand-rolled edge and striped fray.
"So they're also, kinda, very eco-friendly and vegan-friendly.
"So these are the new designs that I've launched here at SHOWCASE.
"Then here I have my signature 100% silk crepe de chine wraps, so these are beautiful worn as wraps at weddings, or just having, just bringing luxury to your everyday in a scarf.
"So then further across here, I have some Modal Linen Silk, and these are gorgeous worn as sarongs on holidays.
"And a much softer fabric here which is Modal Silk, and Modal, all of the fabrice that I like to use are natural fabrics. So Modal is actually a fabric, it's like a cellulose that comes from the Beech tree.
"So these here are my 70x70's and they've got a unique striped hand-rolled edge as well.
"So in general, most of my scarves, they make great gifts, I designed all of my packaging myself, these are my boxes here, so normally I have a painting on the inside of the box and then each gift comes with a postcard and a little booklet about myself as an artist and about the brand and about the scarves that they've chosen."
---