May 31, 2017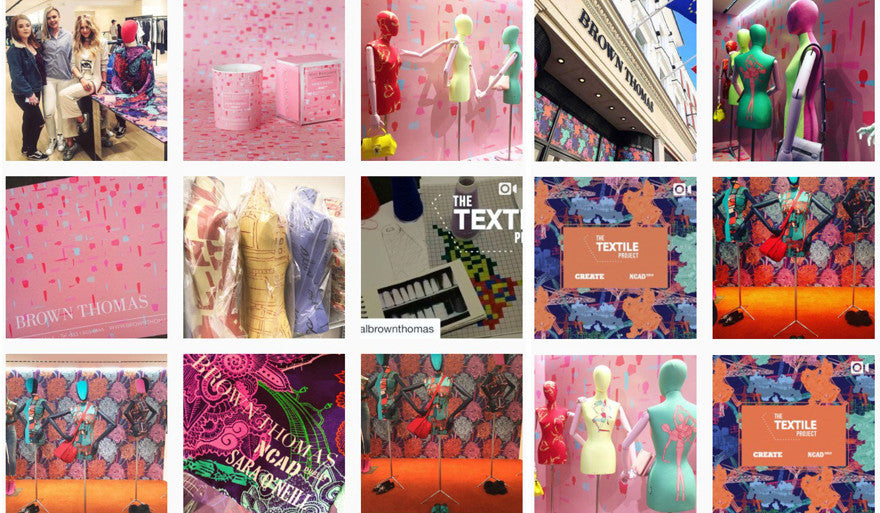 There are only 2 weeks remaining to view The Textile Project, an exhibition of work by NCAD second year Textile and Surface Design students which is currently taking place in Brown Thomas' Grafton Street store.
Twenty students arranged into five groups were tasked to follow a specific brief from Brown Thomas Creative Director, John Redmond, to create colourful printed fabrics crafted into mannequins and displayed throughout the store.
Speaking at the exhibit's launch, John said: "Brown Thomas are delighted to be working with NCAD on this really exciting project. The brief was to work with the 2nd year students to embrace colour, pattern and textures in their design and we feel the work that the students have delivered has far exceeded all our expectations. What's really exciting about this collaboration is that we have developed two products that will be sold instore – a limited edition candle and silk scarf using these beautiful vibrant prints."
Max Benjamin Candle
Team Mannequin
Sara O'Neill Silk Scarf
Team Juxtaposition Bridges
The scarf is produced in Ireland by CREATE alumni Sara O'Neill and the exclusive wrap which decorates a White Pomegranate scented candle is produced by Max Benjamin in Enniskerry. Additionally the chosen prints will also feature on the iconic Brown Thomas shopping bag.
Created in association with Atretzzo in Barcelona who count Gucci, Vivienne Westwood and Valentino amongst its clients, the bespoke mannequins will be displayed throughout the newly refurbished second floor in Brown Thomas, Dublin. The five groups have created beautiful and innovative textiles inspired by everything from the distillers press in NCAD, to the changing profile of the Dublin skyline.
NCAD Head of Design for Body and Environment, Angela O'Kelly, said: "We were delighted to collaborate with Brown Thomas on The Textile Project. The project provides an opportunity to showcase the creativity, innovation and skills that NCAD students acquire and develop during their studies. It is so important for our students and staff to work on live industry projects, pushing our design expertise and developing collaborations across disciplines. Brown Thomas has given overwhelming support and mentoring to the students and it is very exciting to see concepts and design come to fruition from studio to store. NCAD is renowned for producing highly successful graduates and the students involved in this project are the designers of the future."
The exhibition runs until 14th June 2017.
---