November 07, 2016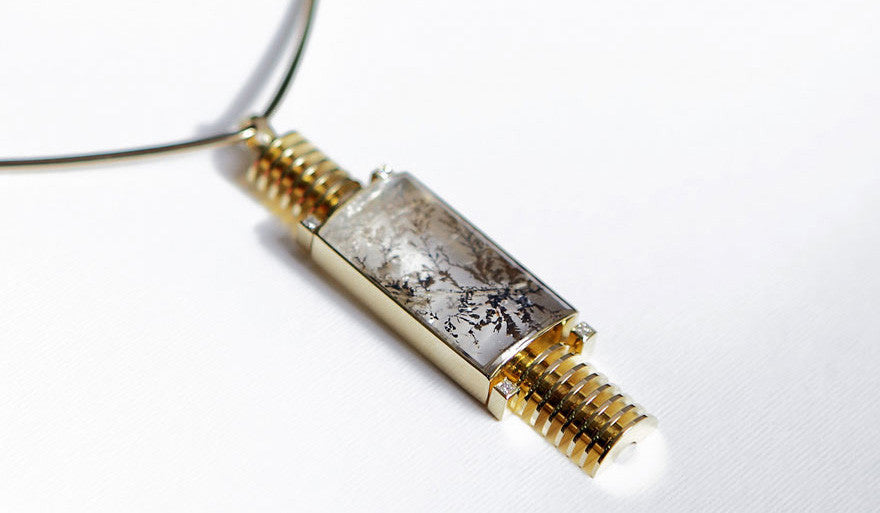 An icon of Irish craft and design, Rudolf Heltzel has a long-established reputation as one of the finest haute couture jewellery designers in the world today.
Rudolf came to Ireland in 1966 at the request of Córas Tráchtála, the Irish Export Board to set up and lead the ground-breaking gold and silver Kilkenny Design Workshops.
In 1968 he established his own workshop in Kilkenny where he, his son Christopher and their craftsmen and apprentices still work today. Here in their Kilkenny studio, Rudolf and his team work platinum, 18 carat gold and precious stones into stunning pieces of wearable art.
Over the past six decades, the originality and quality of Rudolf's work has earned him great renown. Each of his pieces conveys a timeless aesthetic having been crafted meticulously by hand using some of the world's oldest jewellery techniques. Rudolf's thoughtful designs, impeccable workmanship and unique artistic talent have won him international acclaim and recognition.
Hand-made 18ct gold chain with 4 agate druse, chalcedony & 3 agates
18ct gold dress ring set with one red tourmaline
18ct gold set with quartz crystal and spectacular custom-cut diamonds
18ct gold pendant with tourmalines, rubies, sapphires & diamonds
For his "50 Years in Ireland" exhibit at the Royal Hibernian Academy, Rudolf has created two outstanding pendant collections: the abstract 'Rock Crystal Treasure Cave' collection and the figurative 'Tourmaline Butterflies' collection.
Both collections have been executed by hand using traditional techniques in 18ct yellow or white gold and are set with spectacular custom-cut precious gemstones.
Rock Crystal Treasure Cave
Over millions of years, clear quartz crystals form in cavities in surrounding rock, sometimes enclosing fragments of previously deposited minerals.
Rudolf is fascinated by the beauty, shapes, colours and textures of the minerals which formed and became embedded in growing rock crystals. Working with skilful and artistic stone-cutters, who cut and polish extraordinarily beautiful stones – he was inspired to create this collection.
Each individual stone requires a conscientious setting that harmonises the stone, the design and functionality for the wearer.
Tourmaline Butterflies
Precious, colourful, playful... Rudolf rarely designs figurative work, but in this series of butterfly inspired pendants, he has done so magnificently.
In nature tourmaline rarely forms to a quality, size and consistency that will allow specialists to carve matching pairs of "butterfly wings". Rudolf has sourced spectacular examples and designed around them to produce pendants that inspire awe.
Using the sensibility he is known for, Rudolf has set these precious gemstones in intricate 18ct gold frameworks with harmony, grace, and balance. As well as uniquely cut tourmaline gemstones, sapphires, rubies, diamonds and rainbow moonstones feature in these unique pendants.
---